To get around Prague, you can make use of the dense public transit network, which comprises trams, buses and the metro. All monuments and sights can be reached by public transit. Taking a ride on one of our historical trams is an experience in itself.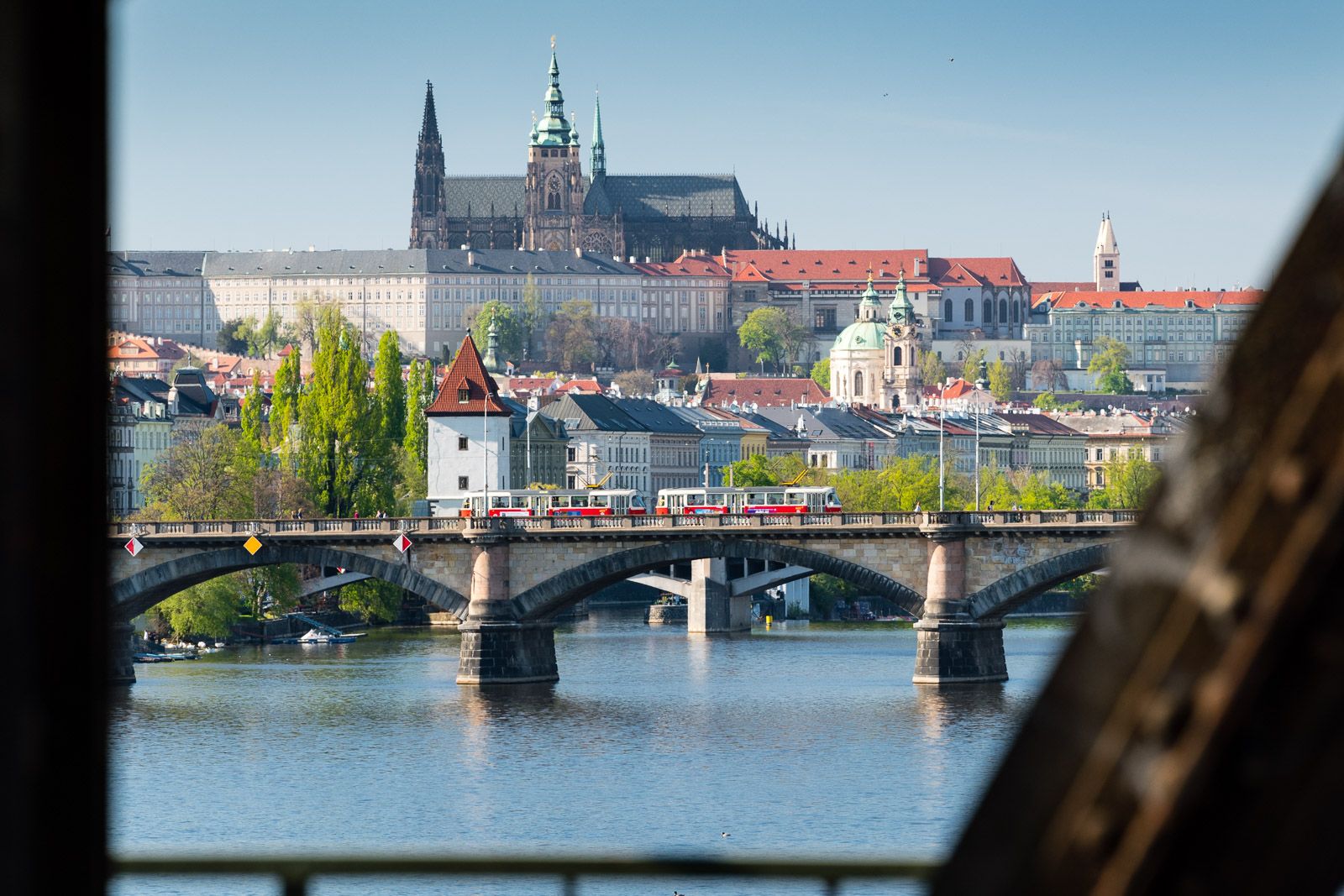 Tickets for tourists
24-hour ticket: CZK 120 (seniors over the age of 60: CZK 60; over the age of 65: free)
This is the most popular type of ticket. It is valid for the whole of Prague as well as for the funicular that goes up Petřín hill.
72-hour ticket: CZK 330
Do you plan to spend a longer period of time in Prague? Once validated, the ticket is valid for 72 hours throughout Prague. It is also valid for the funicular that goes up Petřín hill.
Single-trip ticket for CZK 30 and CZK 40
The CZK 30 ticket is valid for 30 minutes from validation; the CZK 40 ticket is valid for 90 minutes from validation. Both tickets are transferrable.
Children up to the age of 15 travel for free. Children from the ages of 10 to 15 have to show proof of age.
The ticket pricelist and the terms and conditions for using tickets can be found here.
Where and how to buy tickets
The simplest way to buy tickets is to use the ticket vending machines located in the streets of Prague. Most accept credit cards. Ticket vending machines are also located at the airport, at the main railway station, all metro stations and even at the Florence bus station.
A limited assortment of tickets (single-trip + the 24-hour ticket) can be bought via ticket vending machines located inside trams and at metro station entrances (vestibules). You can use contactless cards to buy them.
All ticket types can be bought at DPP Info Centres and sales points; single-trip tickets and the 24- and 48-hour tourist tickets can also be bought at newsstands. DPP Info Centres are located at the airport and the main railway station.
Where to obtain information
Maps, transit route diagrams, information about connections and fares can be found at DPP Info Centres. You can also call our information line at +420 296 19 18 17 (Loss or finding of items).
Tips for travelling on public transit in Prague
Validate tickets immediately upon boarding! As a rule, if you buy a ticket before boarding, you need to validate it when boarding. If you purchase a ticket inside a vehicle (via the ticket machine there), it is already validated when issued.
When travelling by metro, tickets are validated in the vestibule (entrance) and not in the vehicle or on the platform.
The metro runs from approx. 4:30 a.m. to midnight.
You cannot buy a ticket from the driver/operator! Trams 41, 42 and 43 are the exception.
In Prague, you can also buy a ticket via text message (SMS). This option is available only for the numbers of Czech mobile phone operators.
An easy way to purchase a ticket anytime and anywhere is through the PID Lítačka app. Download it to your phone and pay for tickets simply by card.
It is possible to get around Prague at night using our night tram and bus lines. The night tram and bus numbers always begin with the number nine (e.g., Tram 97). Standard fares apply.
It is not worth it to travel without a ticket. The on-the-spot fine is CZK 1000.
You should be able to travel using public transit in Prague without cash. Most ticket vending machines, sales points and the DPP Info Centres accept cards.
Ticket machines inside trams only accept cards, not cash.
Public transit attractions
Public Transit Museum
The tram depot in Prague-Střešovice houses a unique exhibition about the history of public transit in the Czech capital. At the museum, visitors can see more than forty historical vehicles and many other expositions: models, photographs, historical documents, tickets and plans.
More information about the Public Transit Museum
Opening hours: Every Saturday, Sunday and public holidays from 9:00 a.m. to 5:00 p.m.
Admission: CZK 100; CZK 60 discounted
How to get to the Public Transit Museum? By tram of course! Trams 1, 2, 15 and 25 stop right in front of the museum entrance. The name of the tram stop is Vozovna Střešovice.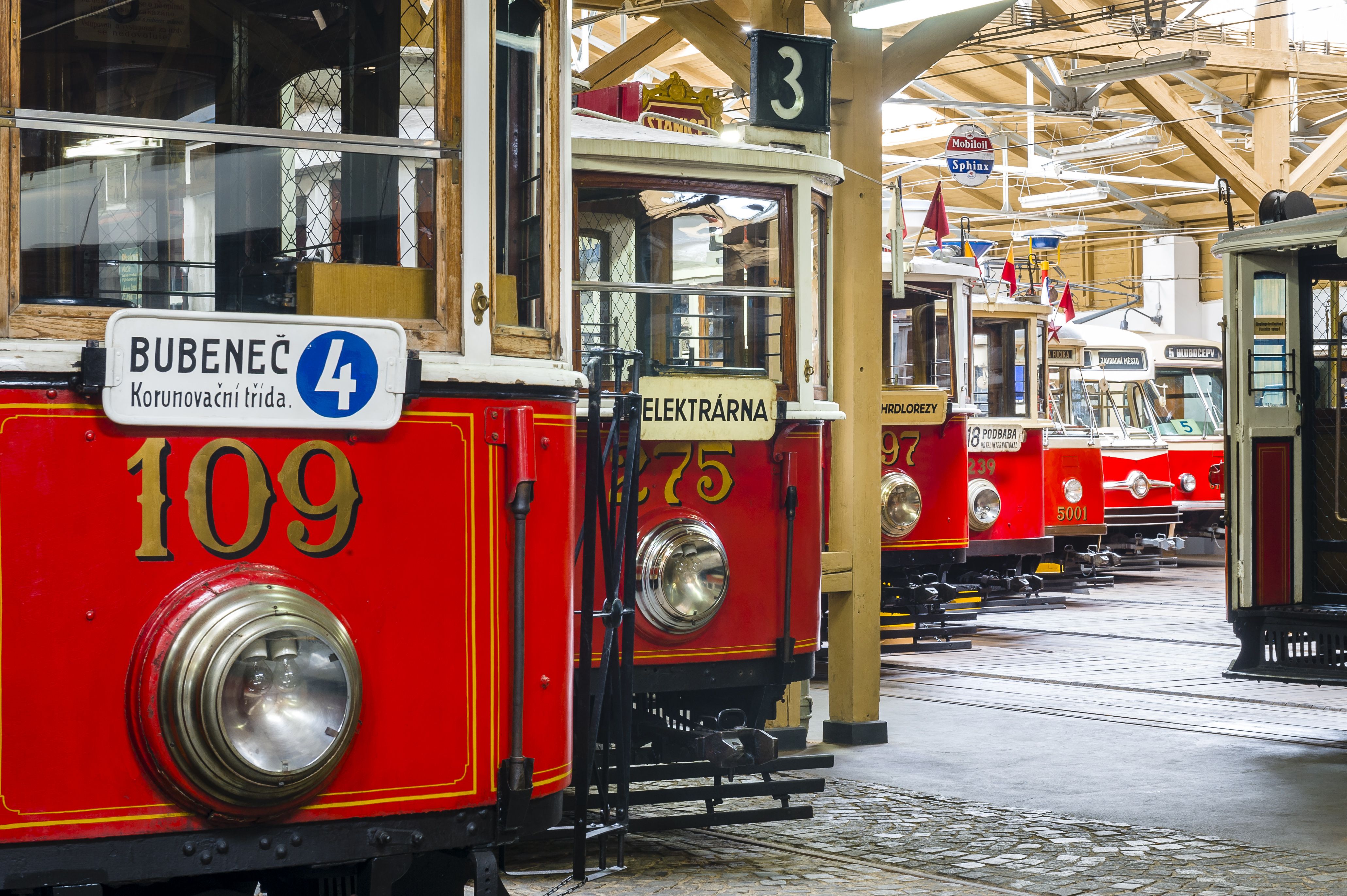 Lines 41, 42 and 43
On Saturdays, Sundays and public holidays, you can see historical Tram 41 and Tram 42 operating in the streets of Prague, and line 43 every Wednesday in the summer. Get on board one of them and enjoy views of Prague in style. The trams run from 10 a.m. to 6 p.m., and their route runs mainly by tourist sites in the city centre.
More information about Trams 41, 42 and 43
Tickets: Tickets can be bought directly in the trams. You can pay by card. Standard tickets are not valid on Trams 41, 42 and 43.
Price (Tram 41 and 43): Single fare: CZK 100; discounted fare: CZK 60.
Price (Tram 42): Single fare: CZK 250; discounted fare: CZK 150. Full-day tickets are valid on Tram 42 as well.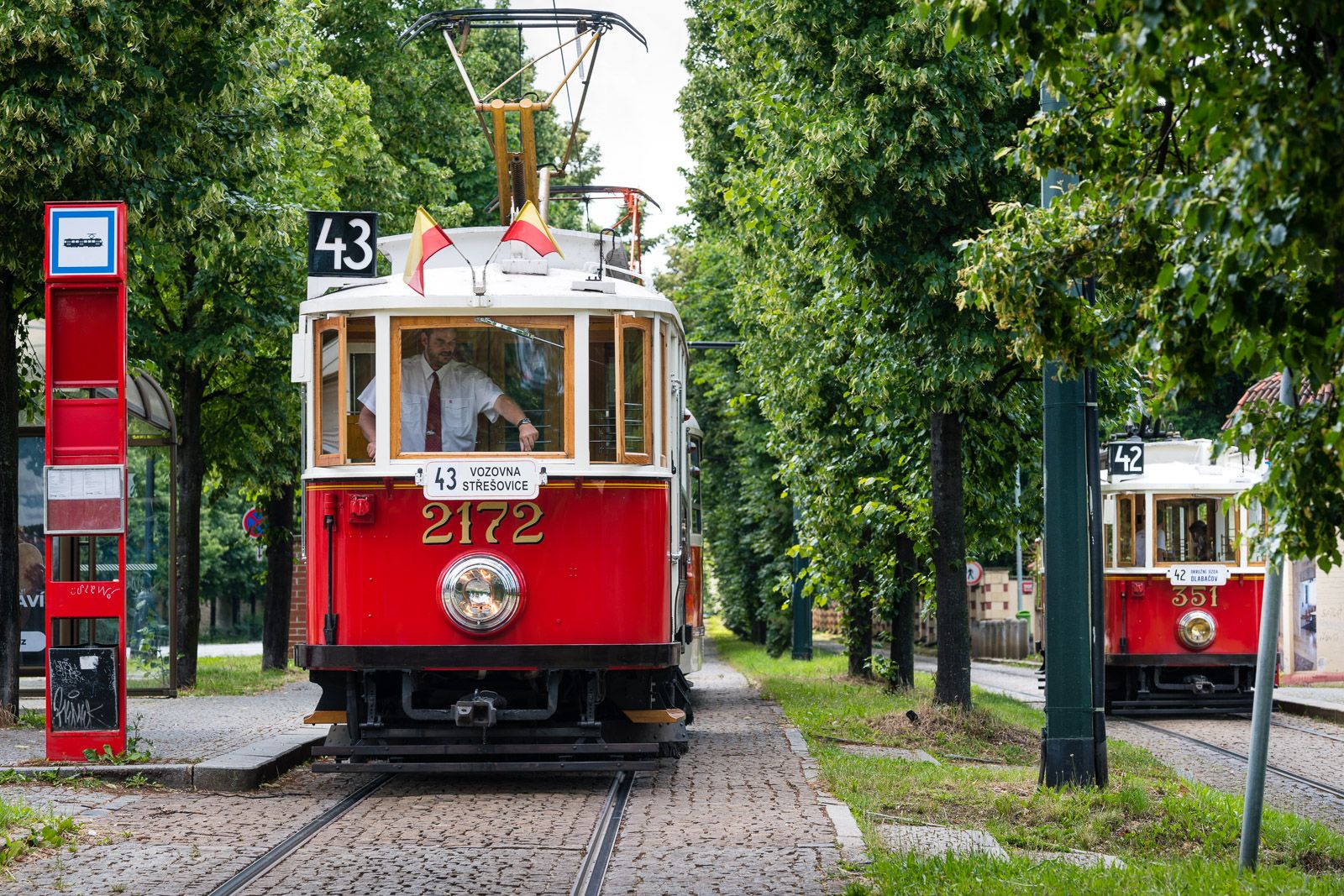 Tram 23
You can also explore Prague using nostalgic Tram 23. The historic, legendary T3 trams, which are inherent to Prague, operate on this route. Moreover, standard fares apply to this tram line, and you can use this tram to get to Prague Castle, for example.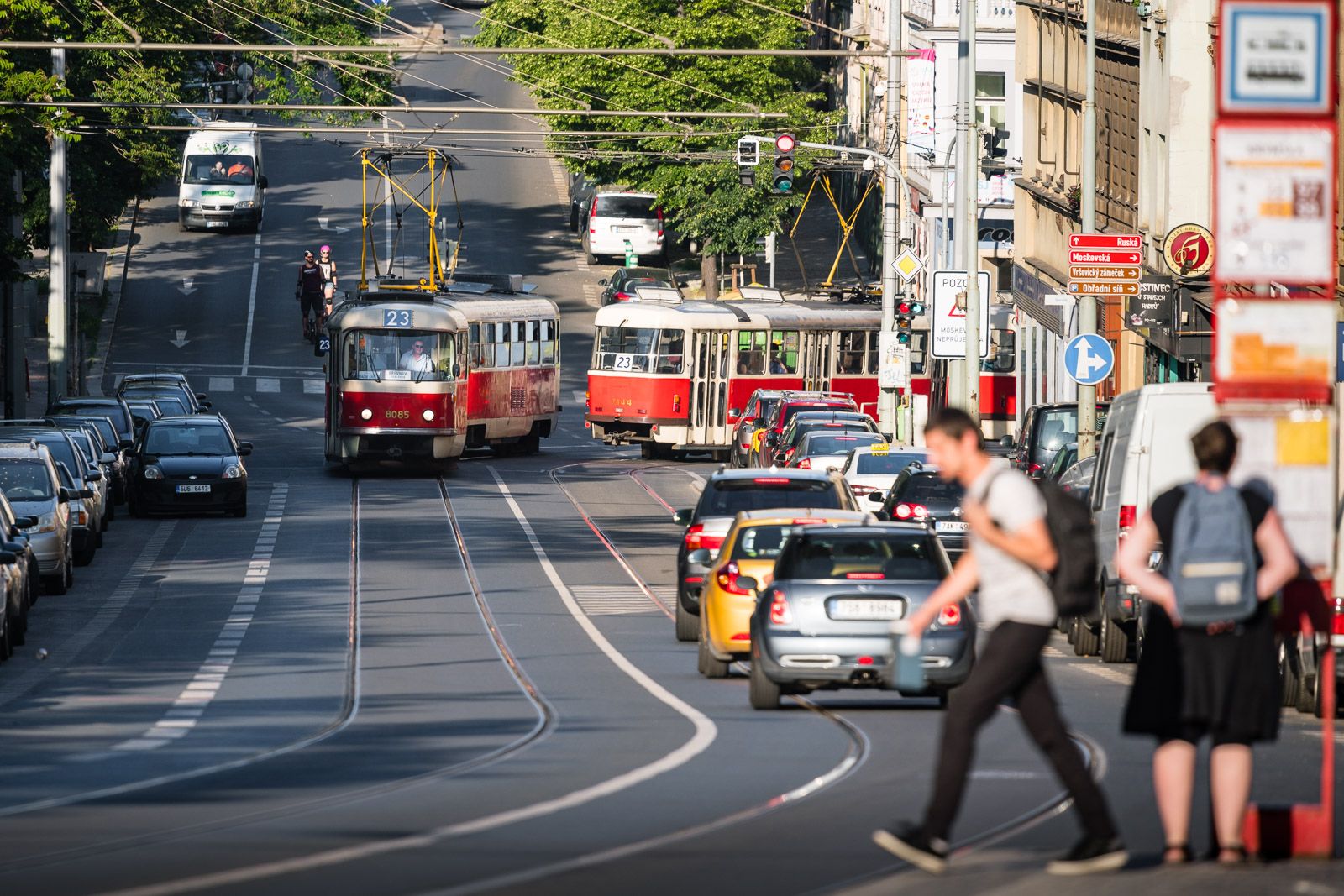 Petřín funicular
The funicular will take you from the Újezd stop in the centre of Prague via the Nebozízek stop all the way up to the top of Petřín hill. From here, it is just a short walk to the Petřín lookout tower. Enjoy the comfortable journey up the hill and the view of Prague Castle and Prague itself. It will be like the whole city fits in the palm of your hand. The funicular runs daily from 8:00 a.m. to 11:00 p.m. [It is out of service during regular Spring and Autumn inspections.]
More information about the funicular
Tickets: The single-trip CZK 60 ticket can be bought in ticket vending machines at each stop of the funicular. You can also use the 24-hour and 72-hour tourist tickets to ride the funicular.
How to get to the funicular? By tram to the Újezd stop.
More information​​​​​​​​​​​​​​
Using public transport to places of interest
ZOO
Visit the Prague Zoo by taking Bus 112 from Nádraží Holešovice on Metro C. This bus runs in short intervals and standard fares apply. Get off at the Zoologická zahrada stop.
Once at Prague Zoo, you can use the cable car to get up the hill if your feet need a rest. The tickets, which cost CZK 25, can be bought in ticket vending machines at the cable car stations. You can pay in cash or by card.
City centre
You can use the dense metro and tram lines to travel in the city centre. And where should your perfect stroll through the city centre begin? Take Metro C to Muzeum station, walk down Wenceslas Square (Václavské náměstí) to Old Town Square (Staroměstské náměstí) and then across Charles Bridge (Karlův most) to Lesser Town Square (Malostranské náměstí). From there you can decide whether to walk up to Prague Castle or take the funicular up Petřín hill to the lookout tower.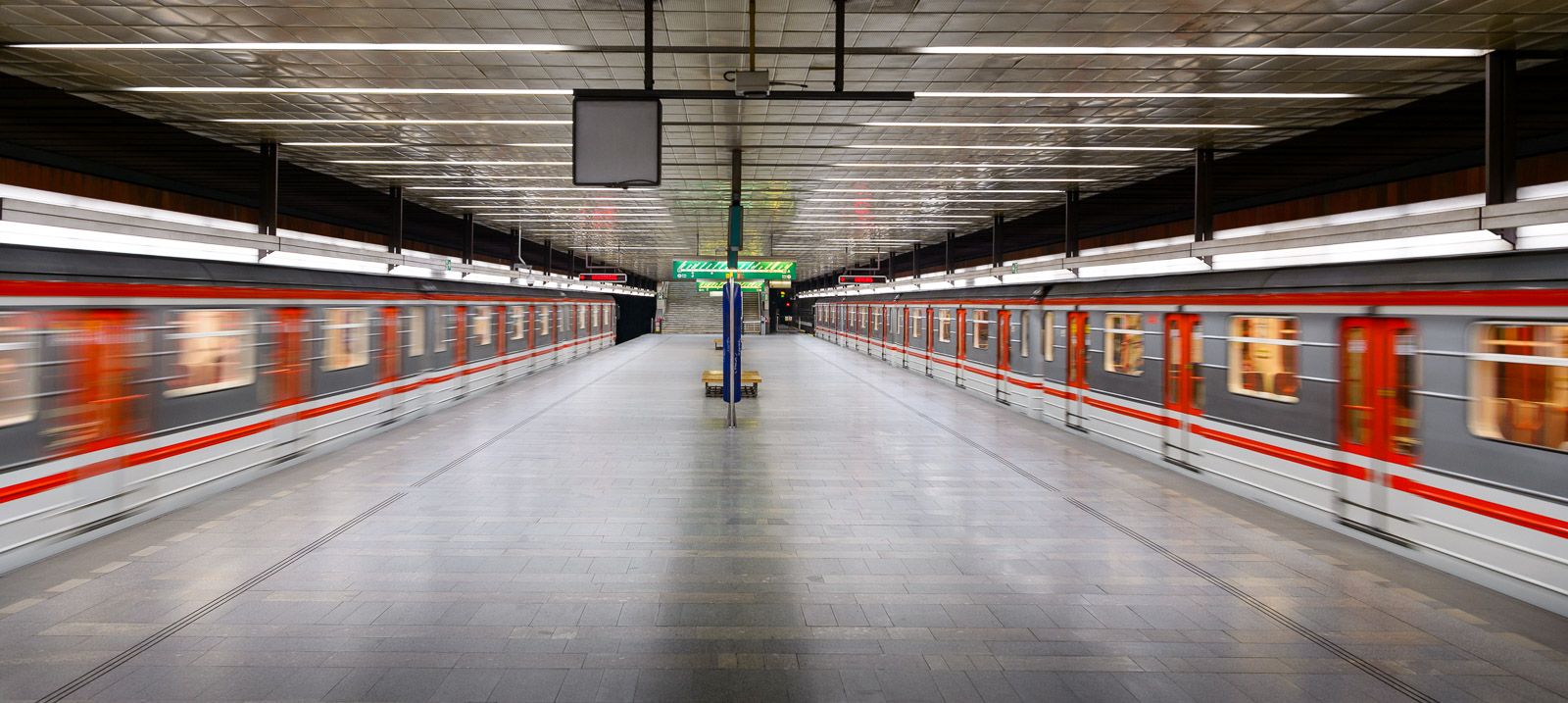 Prague Castle (Pražský hrad)
It is easy to get to Prague Castle using public transit. There are several options. You can take Tram 22 to the Pražský hrad stop (it is the stop nearest to the castle) or to the Pohořelec or Královský letohrádek stop (and then take a short walk). You can also take Metro A to Malostranská station and walk up the Old Castle Stairs (Staré zámecké schody).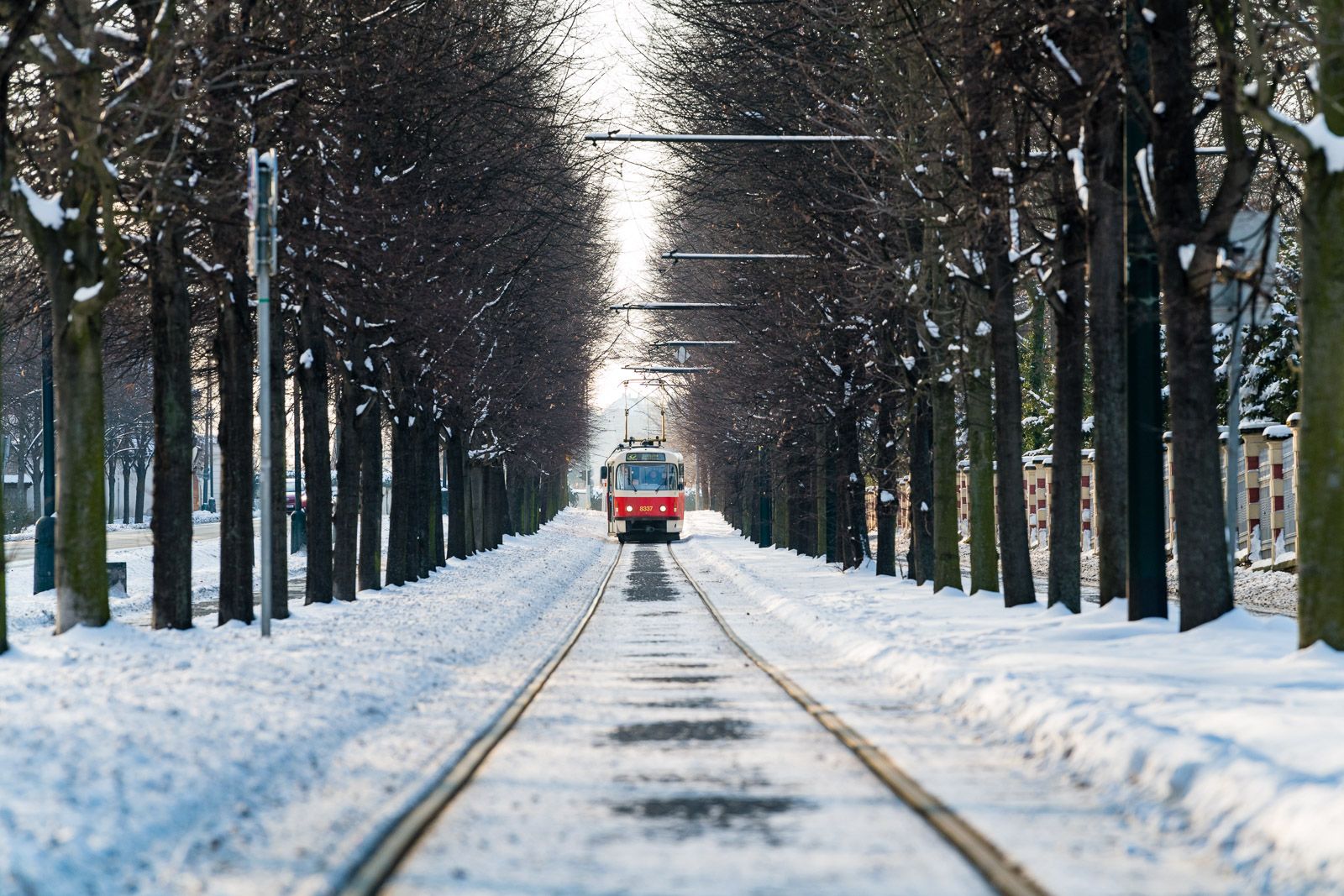 Journey from/to the airport
Prague's Václav Havel Airport is connected to the city centre (metro stations) by bus. Bus 119 will take you to Nádraží Veleslavín station on Metro A; Bus 100 will take you to Zličín station on Metro B. Standard fares apply to both bus lines, as do the 24- and 72-hour tourist tickets, which you can purchase at the DPP Info Centres at both the airport and the main railway station.
Special tariffs apply to the Airport Express (AE) bus line, which runs from the airport to the main railway station and back. You can purchase the tickets directly in the bus or at the DPP Info Centres located at Václav Havel Airport or at the main railway station. A ticket costs CZK 100.
Bus 907 and Bus 910 connect the city centre with the airport at night. Standard fares apply.