Z důvodu výměny pohyblivých schodů a revitalizace vestibulu dochází od 1. listopadu 2020 do odvolání (přibližně na jedenáct měsíců) k dočasnému uzavření vstupu a výstupu ze stanice metra Anděl ve směru Na Knížecí. Vstup do stanice a výstup z ní je umožněn pouze v oblasti u křižovatky Anděl.
Because of the escalators replacement and vestibule revitalisation, starting on 1 November 2020 until further notice (approximately for eleven months), the entrance to and exit from the Anděl metro station in the direction of Na Knížecí is temporarily closed. Entry to the station and exit from the station is enabled only in the area near the Anděl intersection.
In connection with the abovementioned closure, there are changes to the routes and stops of buses 120, 137 and 231 in the affected area.
Changes to bus stops
The Na Knížecí boarding stops are relocated:
For buses 120 and 231, in the Na Knížecí bus terminal, from the second boarding platform to the first boarding platform (closer to Ostrovského street)
For bus 137, from the area in the Na Knížecí bus terminal to Ostrovského street, approximately 40 metres behind the intersection with Stroupežnického street
Established stops
For buses 120, 137 and 231, the following stops are established behind the
Na Knížecí boarding stopp:
Anděl (in Bozděchova street, behind the intersection with Nádražní street)
Na Knížecí (in Stroupežnického street, before the intersection with Za Ženskými domovy street).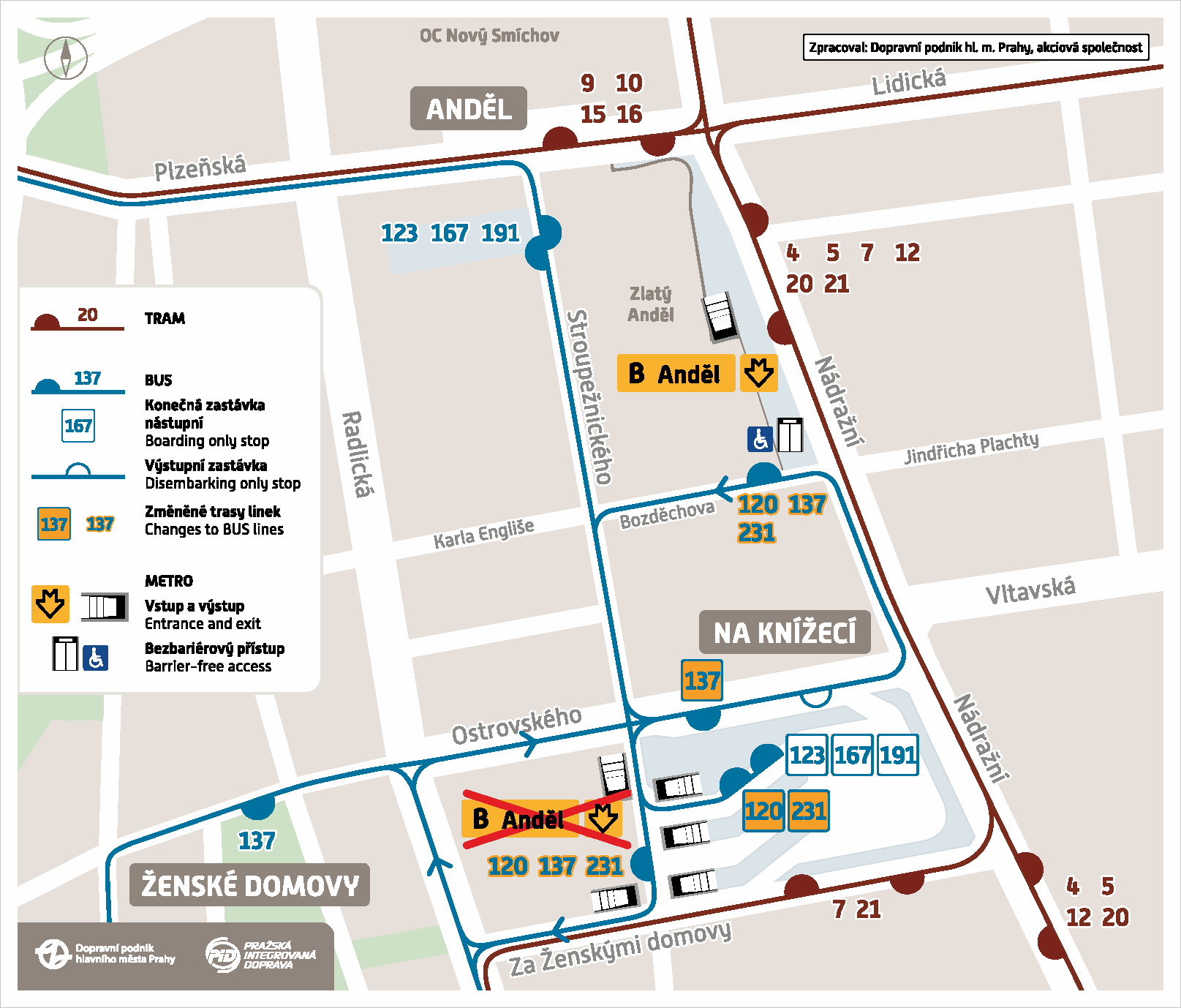 Documents for download
We apologise for potential inconveniences and thank you for your understanding. Further information on the emergency or on the traffic measure will be provided by the telephone information line of the Transit Company on number 296 19 18 17.