New Depo Hostivař tram loop
15. 08. 2022
Starting on Saturday, 13 August 2022, the new Depo Hostivař tram loop is in trial operation. Newly, the extended tram 7 terminates in this loop and tram 16 drives into it in both directions.
Depo Hostivař tram loop also serves as a turning loop for bus connections of urban and suburban lines. It is the 41st loop and the first of its kind in Prague, because it serves not only to terminate or start connections, but also to check in passengers on connections that only pass through it.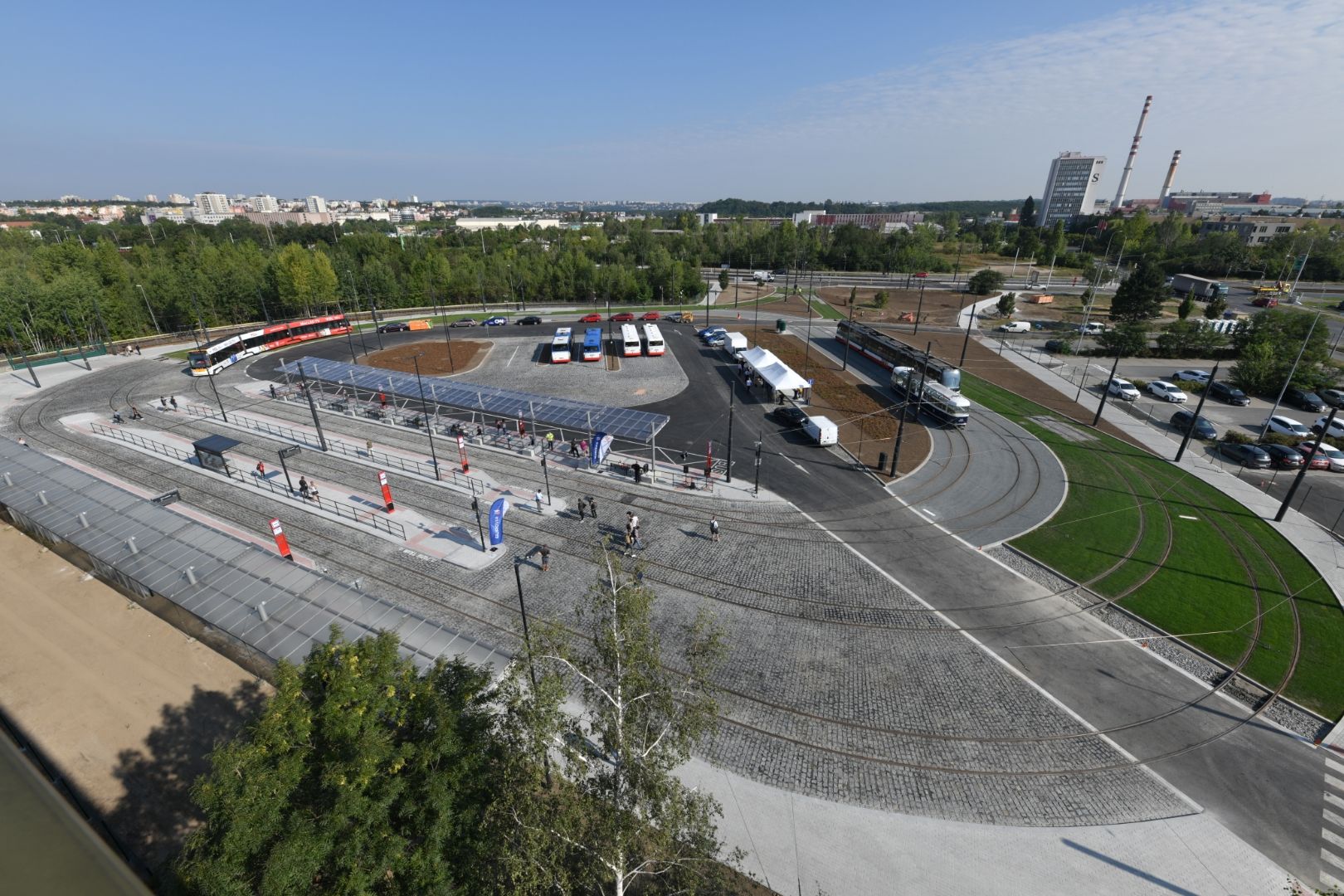 The loop was created on the site of the former bus turning loop and on a part of the current surface detention parking lot. It has three tracks, the capacity of parking tracks for a total of up to five trams, and a total of four platforms. Three of them serve tram connections:

- the stop on the inner track for the exit from tram 7,
- the stop on the middle track is the boarding stop for tram 7 and, at the same time, the stop for tram 16 in the direction of the city centre,
- and the stop on the outer track is the stop for tram 16 in the direction of Ústřední dílny DP.

The fourth platform without tracks serves urban bus lines no. 163, 171, 173, 208, 228, 229 and suburban bus lines no. 364 and 366.
Depo Hostivař loop in numbers
Track length: 1,251 kilometres of tracks
Length of the outer track: 490 metres
Length of track structures: 420 metres
Length of bent rails (arches): 1,100 metres
Straight rails used: 75,3 tonnes
Curb length: 3,302 meters
Track area covered with grass carpet: 1,759 m2
Track area covered with stone paving: 2,121 m2
Number of stops: 6 (3 tram stops, 3 bus stops)
Scheme of stops in the Depo Hostivař loop (PDF)