New electric buses in the streets of Prague
21. 02. 2022
On Monday, 17 January 2022, the Prague Public Transit Company deployed for the first time the new Škoda E'CITY electric bus on line no. 213. The novelty produced by Škoda Transportation was ceremoniously presented to the public at last year's CZECHBUS trade fair in Letňany, Prague. The first electric bus with registration number 3002 was delivered to the Vršovice garage at the beginning of this year.
In the first half of January, several test drives without passengers and testing of the necessary charging infrastructure in the garage areas took place. Škoda E'CITY electric buses have a unique solution with two-pole charging and a galvanically isolated charger on the vehicle. The battery is charged using a pantograph at the final stops from the existing tram network, or in the garage. Charging at the final stops takes 15 to 30 minutes, which adds part of the total battery capacity. The advantage of this solution is the ideal control of the vehicle's energy balance, and especially the low cost of the charging infrastructure.
Škoda E'CITY electric bus
Deployment of electric buses
During February, the Prague Public Transit Company was delivered other 13 electric buses, which have been, since Monday, 21 February, deployed on weekdays on lines no. 213 (Želivského - Jižní Město) and 154 (Strašnická - Koleje Jižní Město), which have charging infrastructure at the final stops Želivského and Strašnická. On weekends, electric buses can also be seen on line 124, which also terminates in the Želivského turning loop.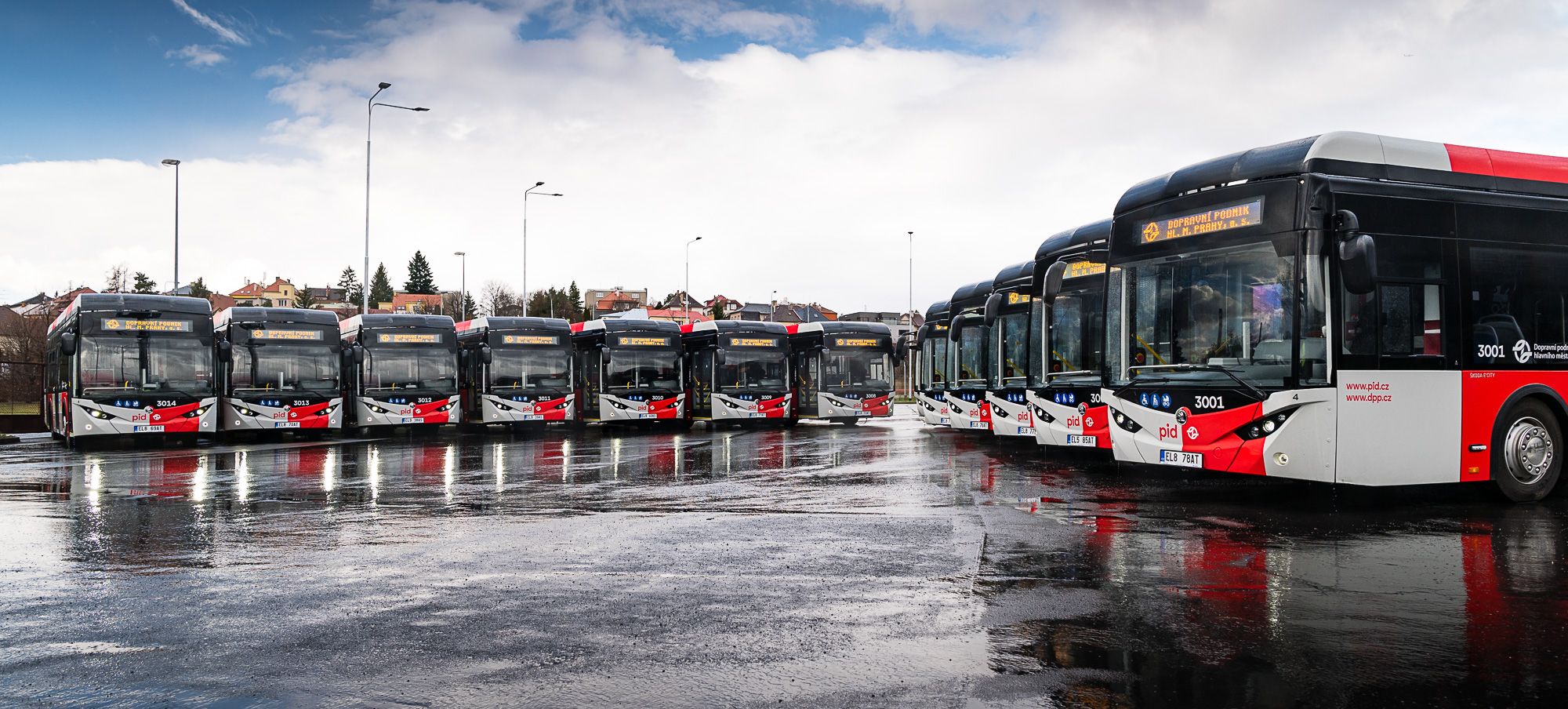 Basic technical data of the Škoda E'CITY electric bus:

| | |
| --- | --- |
| Producer: | ŠKODA ELECTRIC a. s. |
| Length: | 12.095 m |
| Width: | 2.55 m |
| Height: | 3.3 m |
| Wheelbase: | 5,805 mm |
| Total maximum weight: | 19,000 kg |
| Maximum speed: | 80 km/h |
| Number of doors: | 3 double-wing |
| Boarding height: | 32 cm |
| Total number of seats: | 33 (of which 2 folding) |
| Total number of passengers: | 82 |
| Declared service life: | At least 12 years |
| Engine power: | 160 kW |
| Fast charging power: | Up to 150 kW |
| Backup charging plug-in: | The vehicle is equipped with a standardised charging socket type CCS 2 |